Happy Valentines Day!
Just when you think Spring has arrived early, what happens?! Brrrrrr.....winter is back! I'm not complaining though...it gives me an excuse to grab a cup of hot chocolate and snuggle with my honey in front of the fire. :)
This week has jumped into full gear and I've hit the ground running! Work has been busy, and the extra traveling I've done today sent me straight into nap mode when I returned home. Unfortunately, not much else was accomplished this evening, but oh...I sure do love those catnaps.
This blog has been an idea circling in my head for quite some time. I've started and stopped it umpteen (is that really a word??) times and changed the blog name at least a half dozen times. No doubt you're curious as to where the final name choice actually came from so, voila!
Please allow me to introduce you to the Fred's. These are our furbabies, Bodie and Koko...both Boston Terrier rescues, and both
truly
adorable. They are a rambunctious, loving, mischievous hot mess and I love them dearly. Because of their antics, they've earned the nickname, "Fred's in the Head," or "Fred's" for short (no offense to anyone named Fred!). :) It's really just a silly little nickname, but one that they respond to surprisingly well, haha! They do inspire the funny side of me so I thought the name would be perfect for the blog.
Other than the Fred's, one thing you're probably going to see a great deal of on this blog is homemade hot and cold process soaps. I caught the soap bug a few years ago and have been churning out the soap bars ever since. Lately I've taken a hankering to playing around with different soap formulas and natural ingredients in an effort to create one really kick-ass bar of soap! It has to have it all: soothing, softening, cleansing, and the oh-so-wonderful-yet-very-subtle scent. I'm also trying to incorporate various plants from my garden as much as I can. One of these such soaps is a cold-process soap handmade with cucumbers from my garden last summer. This was actually the first time I tried going the cold process route, but I was very pleased with the results!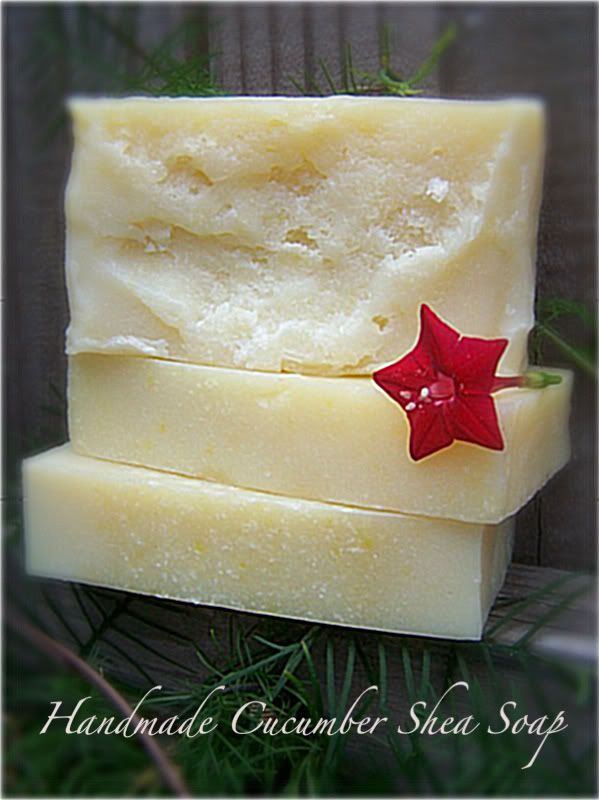 The second time I made cold process soap was also the first time working with goats milk. I thought it turned out beautifully, if I do say so myself, though honestly in the larger bars, I found the patchouli scent a bit overpowering (note to self!)...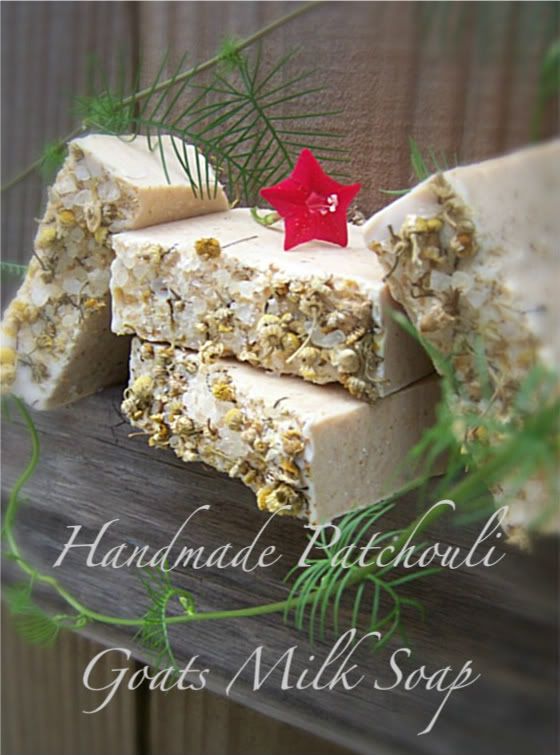 This will be made again soon (minus the overpowering scent), hopefully by the end of the week, and will be for sale in my Etsy store. :) I will post a tutorial & recipe for making this soap so you can make your own as well! Speaking of Etsy...I'm adding items daily as time allows so check back often for a variety of goodies and giveaways!
saluu,
Susan